Entrance Systems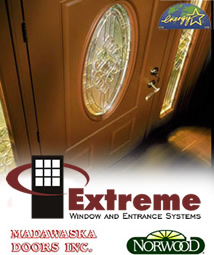 Add elegance and beauty to your home with steel entrance systems.
Our entrance systems come in a wide variety of styles and sizes and can be combined with Sidelites, Transoms, and other products to make beautiful feature installations.
They may be very beautiful, but deep down they are doing very important jobs – protecting you and your family while saving your energy dollars. Constructed of the highest-quality galvanized steel, they offer superior durability and security as well as weather and rust resistance. Magnetic weatherstripping seals keep out wind, rain, and dust. Foamed-in-place polyurethane insulation ensures comfort and energy savings.
High-quality CFC-11-free polyurethane core system that has been designed, engineered, and tested to provide superior insulation (R-16) and structural strength

1 1/4" stiles made of kiln-dried, finger-jointed wood to provide full length thermal barrier between interior and exterior

Seamless vinyl cladding over finger joint pine prevents condensation (interior cladding available)

Ball bearing hinges

24-gauge, G-60, hot-dipped galvanized steel for maximum rust protection

1" to 4" Brickmold available.

Adjustable door sweep
Ask about our glass insert options.
We have a variety of glass insert options including silkscreen image, leaded lites with decorative glass, and even internal mini blinds.
Fibreglass Entrances Systems
The beauty and texture of wood in long-lasting fibreglass.
Give your home incredible warmth and appeal with these amazing wood-textured fibreglass entrance systems. Paintable and stainable, these doors provide years of low-maintenance satisfaction. Notable features include:
Deep wood-grain texture

High-performance fibreglass facings

Polyurethane core; engineered stiles

Rot resistant bottom rail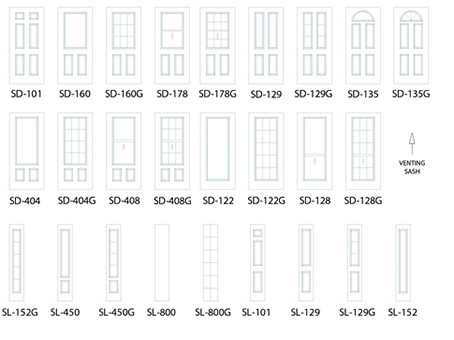 Would you like to learn more?
Visit our showroom to see our large selection of solutions for your home and office.
You can also visit our suppliers web sites @
www.extremedoors.ca
www.madawaska-doors.com
www.norwoodwindows.com