With our region's rugged climate and energy-conscious consumers, we have partnered with Extreme Window and Entrance Systems, located in Moncton, New Brunswick, to supply our customers with high-quality windows and doors.
Extreme's Service, and Technical Support teams combined with their dedicated and loyal production staff are committed to quality service and manufacturing excellence.
"Quality workmanship goes into every unit we produce. We guarantee it. For life."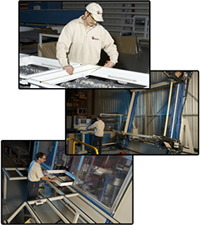 Extreme's Promise
"To use leading technologies to produce top quality products. We partner with the region's best window & door specialists to deliver these top of the line products. Enhancing the comfort, value, and enjoyment of your home. "
Extreme's Commitment
"At Extreme, we appreciate and understand that in today's marketplace, value, quality, and service are simply expected.

To stand out from our competition we realize that we have to deliver dreams. Our team of professionals are driven by imagination and skill that creates excitement and crafts magic into every product we produce.

Our excellence has made us one of Atlantic Canada's fastest growing companies. Our promises is to produce remarkable performance, versatility, and charm for your homes distinctive style."
Trusted By...
developers and homeowners across Atlantic Canada!
At Extreme Window and Entrance Systems, we are committed to ensuring that your Windows and Entrance Systems keep your home looking beautiful for years to come. That's why we offer such a comprehensive warranty on all of our products.
Vinyl Lifetime Warranty

Insulated Glass Lifetime Warranty

Window Hardware Lifetime Warranty
For more details, please refer to our warranty card or visit